Episodes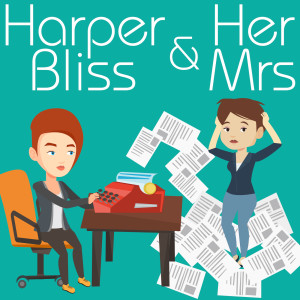 Thursday Sep 02, 2021
Thursday Sep 02, 2021
Apologies for skipping last week. Visiting friends and cat sitting duties made it impossible to record an episode.
That Woman Next Door
is available for
pre-order here
! Harper reveals the story behind the unfortunate naming choice of one of its characters.
Harper's two attempts at writing Pink Bean 11 didn't work out so she's taking an extended break from writing. She's decided to organise another read along in her Facebook group, this time of
Two Hearts Trilogy
.
Join the group to participate
. And don't forget to answer the three questions to gain entry!
Tv shows we loved recently: The Unusual Suspects (Miranda Otto is so much better than Nicole K.), The Chair (with Holland Taylor for the queer lady interest), and F*** You Very, Very Much (a hilarious Flemish show about messy Millennials.) And we rewatched the first two seasons of Sex Education which is excellent. Plus it has Gillian Anderson, so what's not to like.
Caroline's book of the week is This Must Be the Place by Maggie O'Farrell, which she loved. 
Tune in again next time for a new episode of Harper Bliss & Her Mrs.